Capture the beauty of words in an inscription to treasure.
Hi, my name's John,
I engrave all types of jewellery, glassware and precious metals by hand and machine.
Since being established in 1978, it's been my labour of love to turn something special into something treasured for discerning clients. But to this day, the most important piece of work is always the one being currently engraved. From personalised watches to titanium bicycle frames and just about everything in between. All from my studio workshop here in the Royal Exchange, overlooking St Ann's Square.
So if you have something special you would love embellished with an inscription to treasure, please get in touch and tell me about the magical words you need. I'll be happy to help.
Previously freelance engraver at Kendals, Manchester.

Hello John, just wanted to thank you for your outstanding service today. The glass engraving is beautiful, and your service was exceptional. The whole experience from start to finish exceeded all my expectations. Thank you so much! 
Lizz Meredith, Stockport
You can see more of our testimonials here.
What do I engrave?
Hand engraving is a fine art with a long history. It's also my speciality – the work I love. From family silver, handed down through generations to the latest iPads. There are all sorts of items we can engrave. For example, you can have custom engraving on…
Watches of all makes, including…
Breitling
Rolex
TAG Heuer
Cartier
Emporio Armani
Metal of all types, including…
Gold
Silver
Rose Gold
White Gold
Pewter
Stainless steel
Titanium
Tungsten
Jewellery of all descriptions, including…
Russian Wedding rings
Pendants
Brooches
and traditional Engagement, Wedding and Eternity rings
Glassware and Crystal of all kinds, including…
Baccarat
Waterford
Saint Louis
as well as Bottles of Champagne, Spirits and Perfume
In fact, the possibilities are almost endless. So, whatever personalised engraving you need or the occasion you wish to celebrate, let me capture the beauty of words in an inscription to treasure.
And if you're in need of a little inspiration, or you're simply wondering what may be possible, take a look at some of our most recent work.
For advice and ideas, you can also ring us on 07740 152394 for a no-obligation chat. Or, if you prefer, send me an email at – engraving@sky.com – I'd love to hear from you.
Alternatively, you're always welcome to drop in at the workshop Monday to Saturday 9:00 am until 5:00 pm (lunch 2:30 / 3:30). Here's our address.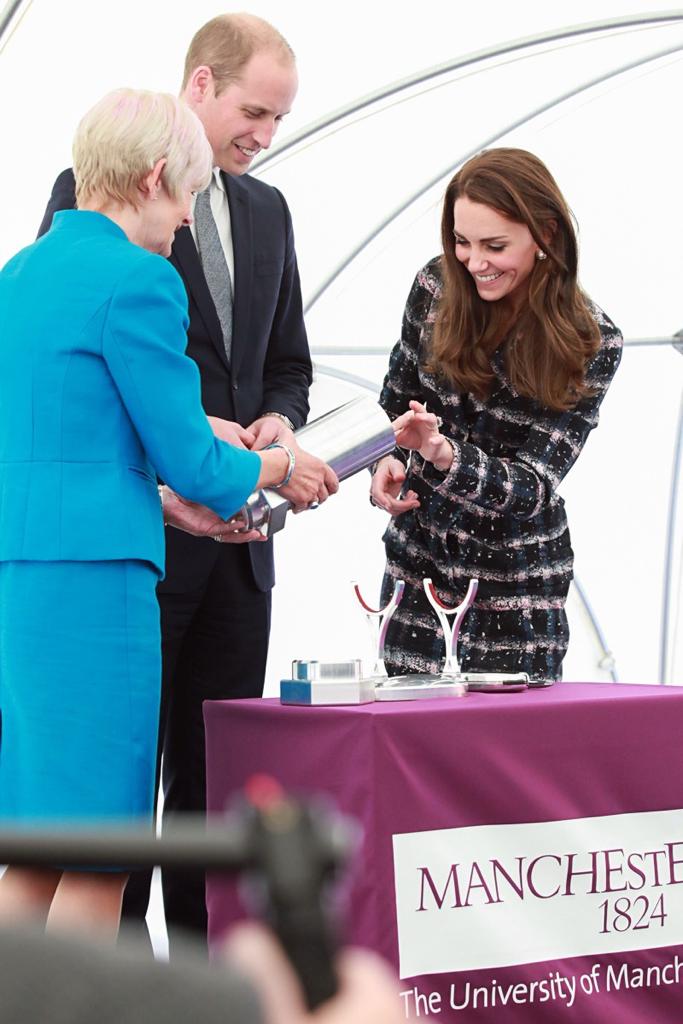 The Duke and Duchess of Cambridge sealing a machine engraved time capsule at The University of Manchester